In "Waking Up to Wildfires," filmmaker Paige Bierma uses her camera to tell the stories of people most affected by the 2017 North Bay wildfires. We hear from survivors, firefighters, public health officials, community groups – and the scientists who are trying to make sense of it all while people struggle to recover and new fires erupt.
The UC Davis Environmental Health Sciences Center (EHSC) produced "Waking Up to Wildfires" with a grant from the National Institute of Environmental Health Sciences to help shed light on the plight of communities after these types of disasters.
So many wildfire survivors have contacted us wanting to see "Waking Up to Wildfires," we're now showing the film to audiences in a variety of ways.  Bookmark this page for documentary updates, events, new research findings and other announcements related to the work EHSC is doing around wildfires. 
"Waking Up to Wildfires" releases
September 20, 2019: We released the feature-length version of "Waking Up to Wildfires" on our YouTube channel as part of the global #ClimateStrike.
October 11 and 13, 2019: PBS aired a 30-minute version of the film to commemorate the 2-year anniversary of the 2017 North Bay wildfires and is syndicating it nationally through 2021. 
Why audiences love "Waking Up to Wildfires"
On November 4, 2018, EHSC held a special screening event for survivors and community members at the historic Sebastiani Theatre in Sonoma, California. After the screening, we asked the audience what they thought about the film. Below are some highlights.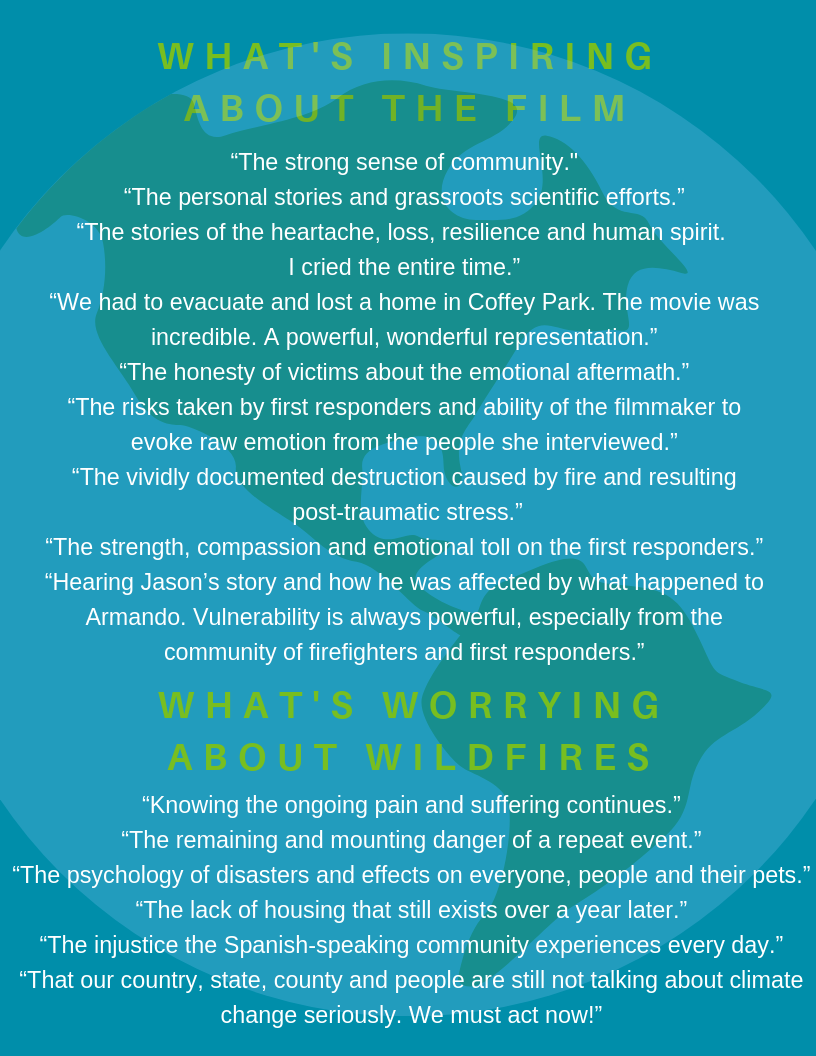 Tags