COVID-19 & Domestic Workers 
Prepared for The California Domestic Workers Coalition
The COVID-19 pandemic is changing the rules of labor for almost everyone. For those who toil in low wage, essential jobs, the impact has been significant as the virus upends workers' health, hours and pay. Many of these workers lack health insurance, paid time off or the most basic rights in the workplace that so many of us take for granted.
In California, more than 2 million homes rely on the essential labor of housecleaners, nannies and home attendants. Domestic workers, who are mostly immigrant women of color, are the only group of workers excluded from the state's health and safety protections under the California Occupational Safety and Health Act.
This research project aims to figure out if these longstanding workplace issues, combined with changes on the job due to COVID-19, make domestic workers more vulnerable to the virus. This report is a look at data collected from September 2020 through April 2021.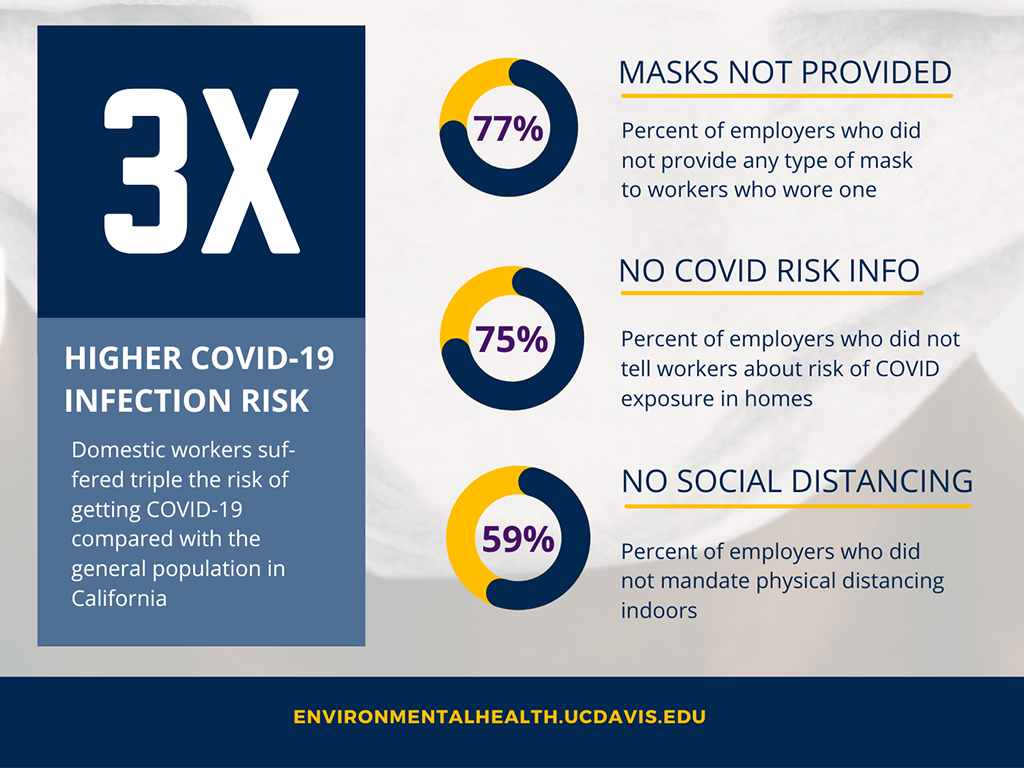 Research Takeaways
More than three-quarters of employers did not provide masks—the most ubiquitous and accessible type of protection, and one of the most effective when properly fitted. Although domestic workers understood the importance of wearing one, the pandemic burdened them with significant financial losses that made purchasing safety supplies difficult. Employers put workers in further danger by not telling them about COVID risks when entering homes. Workers reported to advocacy organizations that employers sometimes asked them to disinfect living spaces without warning them someone in the home had COVID.
Numbers and Statistics 
The COVID-19 Survey for Workers collected data from 164 domestic workers before widespread vaccination or the emergence of the Delta variant in the United States. Most domestic workers interviewed for this research project were Hispanic (82%) women (95%) who worked as housecleaners, nannies, and home attendants for seniors and people with disabilities.
COVID-19 affected domestic workers physically and emotionally with significantly higher levels of illness, more stress, greater job loss and fewer resources. Many of these workers were undocumented, which meant that they did not receive unemployment benefits or have access to other types of support despite being frontline workers.
The Health Impact
72% reported higher levels of stress related to health care coverage. Nearly three-quarters of domestic workers were moderately (40%) or extremely (32%) stressed by changes to health care or health insurance during the pandemic.
33% believed they got covid-19 from work. One-third of those who reported symptoms of COVID-19 believed they had been exposed on the job.
30% were diagnosed with COVID-19. A significantly higher percentage of domestic workers reported that a healthcare provider told them they currently had or likely have had COVID-19 compared with 10% of Californians during the same period.
The Economic Impact
87% reported fewer hours and assignments overall. Domestic workers responded that they were working fewer jobs due to decreased labor demand.
67% are working for less money. More than two-thirds of domestic workers have been laboring for less money during the pandemic. In contrast, other frontline workers received state-funded temporary hazard pay in 22 cities and counties across the state, which in most cases amounted to an additional $5 per hour.
36% have lost work all work. These domestic workers lost all of their jobs, while another 47 percent lost some.
29% have not received payment for completed work. On top of everything else, outright wage theft by employers is a common problem for these workers.
Employers Didn't Offer Adequate Protection During the Pandemic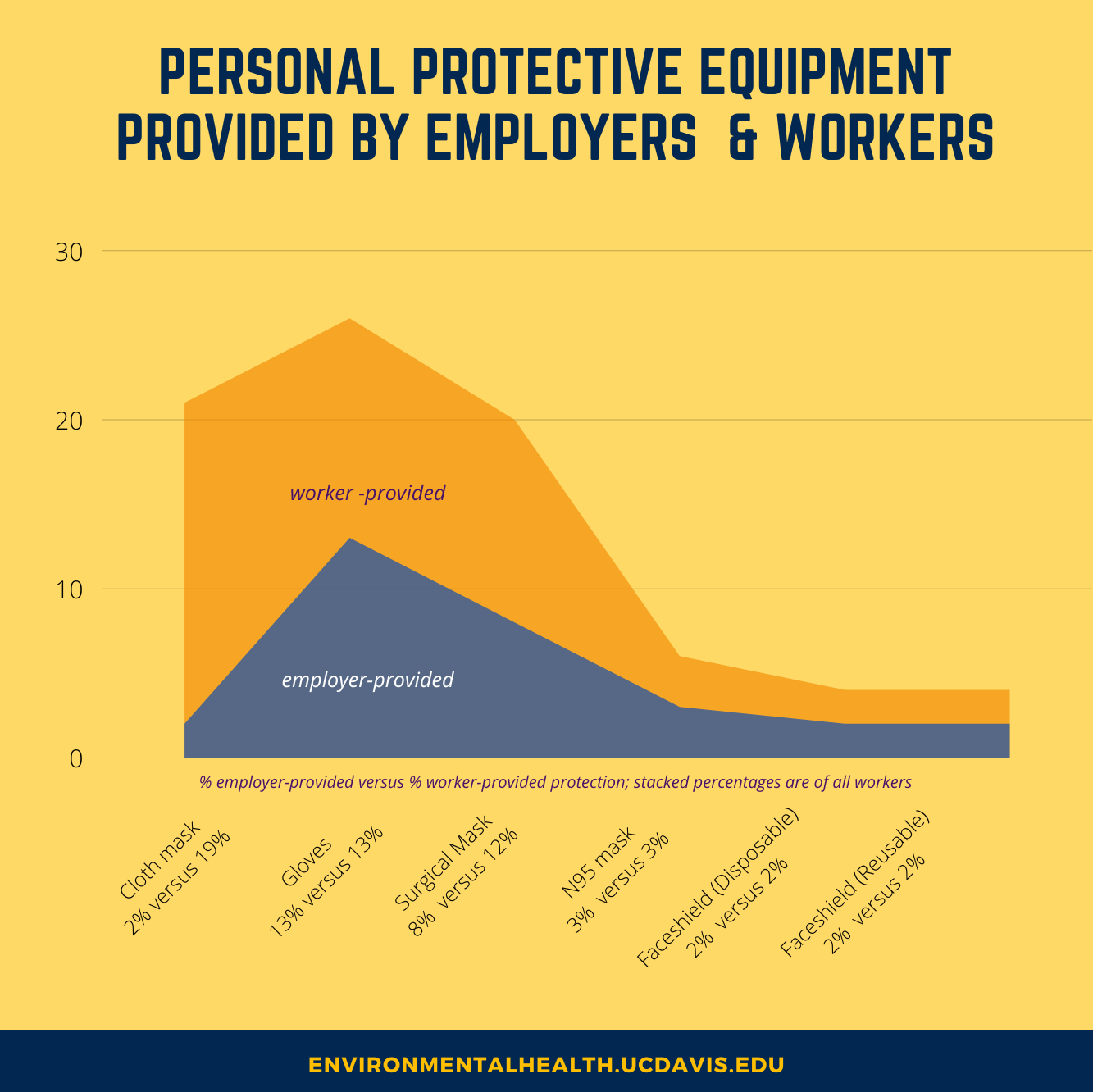 Domestic workers said they had to provide their own PPE to protect themselves. Our data showed when employers did offer
PPE, cloth masks were most desired by domestic workers but least provided by employers.
According to the CDC, a tightly fitted face mask is one of the best ways to protect yourself against SARS-CoV-2. Scientists recommend double masking, with a tightly woven fabric on top and an inner layer designed to filter out particles underneath.
20% of employers didn't provide any protections listed
33% of employers didn't require mask while at work
35% of employers didn't offer workers hand washing stations or sanitation supplies
59% of employers didn't require physical distancing on the job
74% of employers didn't require a temperature check before working
75% of employers provided no info about COVID-19 risks on the job
No one is safe unless we all are, so why aren't domestic workers protected? 
As long as the pandemic rages on and the most vulnerable among us are at risk, we're all in danger of getting sick or dying from COVID-19. The virus is now thriving in unvaccinated people. As we've seen with the Delta variant, SARS-CoV-2 can mutate making our only source of hope—the vaccine—less effective even for those most protected. To defeat the virus it's critical to protect all workers equally.
Recommendations
We recommend domestic workers receive the same protections and rights enjoyed by other workers including:
Vaccines

COVID-19 tests

Physical distancing in workplaces

Providing face masks and sanitation supplies

Providing information on COVID-19 policies and procedures in workplaces

Reporting COVID-19 illness or death in workplaces
Workers' Voices 

Dignidad: California Domestic Workers' Journey for Justice
EHSC's new documentary follows domestic workers as they organize for job protections during the COVID-19 pandemic. 
"At one of the houses where I work, my employers did not tell me that they had COVID. It was only after the job that I realized that the husband had died, and they had hired me to clean up because they were going to have the reception for the wake. My life was at risk without knowing it. I too could have caught it and spread it to my own family." — Carolina, Housecleaner, Los Angeles, CA
"Throughout my 13 years that I have dedicated myself to housecleaning, I have experienced very difficult things. The pandemic has been the most difficult thing that I have had to live through. Without a mask, I have had to clean the bedroom of a person who was infected with COVID. An employer worries because they think that you can bring the virus from outside, but you don't know if the virus is inside their home." — Yeni, Housecleaner, Pomona, CA
"I always think of myself and my employers, but they don't think of me. I have had to buy my own gloves, my own masks. I have to protect myself. They don't think that I could catch it, or I could bring the disease home and spread it to my husband. I got sick in January, I got COVID and I had to stop working for a month." — Norma, Nanny, Los Angeles, CA
"It's hard to work without protection, especially since I have close contact with my patients. For example, with one of my clients, I wrote to his son about the supplies I needed, but he didn't give me gloves, so I just bought them for myself. My clients' protective equipment is not really complete. I just can't stop working, because of course, no work, no pay. But protective equipment is important to me, especially since I'm 68-years-old and I don't want to get COVID." — Menchu, Homecare Worker, Hercules, CA
Testimonies provided by the California Domestic Workers Coalition
Tags