Meetings, seminars and other events
The UC Davis Environmental Health Sciences Center offers classes, meetings, seminars and other opportunities to become engaged and involved in the work our Center does. Some events are public and others closed for specific working groups.
Below is a list of regular meetings and events. There's always more going on, so check back on our events calendar regularly for updates. Contact Ruth Williams (ruwilliams@ucdavis.edu) if you have questions or would like more information about a specific meeting or event.
Aims Review
Our Aims Review happens monthly and is hosted by our Career Development Program (CDC).
Investigators preparing to submit a grant proposal (intramural or extramural) bring their Specific Aims in so a senior investigator and biostatistician can review it and give advice.
If you would like to participate in an Aims Review, fill out this submission form. If you have a question regarding the eligibility of your Aims, contact Career Development Program Co-Director Pam Lein (pjlein@ucdavis.edu) or Nick Kenyon (njkenyon@ucdavis.edu).
RSVPs are strongly encouraged. We provide lunch to those who RSVP. Please RSVP and email your Aims to Ruth Williams (ruwilliams@ucdavis.edu) by noon on the Friday before the review so she can distribute them to reviewers.
Zoom information
All Aims Reviews are remote via Zoom.
Meeting ID: 969 3496 8535
Passcode: 740150
Anti-Racism Committee meetings
For researchers, staff
Monthly
In 2021, the UC Davis Environmental Health Sciences Center's Community Engagement Core (CEC) submitted an anti-racism proposal to its leadership as a springboard for action. We now hold monthly anti-racism meetings where discussions and collaboration around diversity, equity and inclusion happen.
All member scientists, grantees and staff of the Environmental Health Sciences Center are welcome to attend. Please contact Shosha Capps (sacapps@ucdavis.edu) if you have questions or would like to get involved.
Science Seminar Series
For researchers, staff, students, general public
Every other month
Our Science Seminars happen every other month and features two Pilot Project grantees who give an update on their research. It's open to all and a great way to stay abreast of the work the UC Davis Environmental Health Sciences Center funds. 
Community Stakeholder Advisory Committee meetings
For researchers, community stakeholders
Biannually
Our Community Stakeholder Advisory Committee holds two meetings each year in the Spring and Fall to gather with researchers from the UC Davis Environmental Health Sciences Center to discuss research priorities and collaborations.
Community Research Design Clinic
Community engagement plans are required and scored for each pilot project application. The Community Engagement Core offers a Design Clinic once a year in the Fall for prospective pilot project grantees to help them envision community engagement in their proposal. The Design Clinic takes place annually in the Fall after community research priorities are set. For more information contact Shosha Capps (sacapps@ucdavis.edu).
Best Practices in Research Program Management Course
For researchers
Academic year
This 9-week course for researchers runs throughout the academic year, with sign-ups usually at the beginning of the Fall term. If you're interested in participating in the next one, contact one of the Career Development Program Co-directors Dr. Pamela Lein (pjlein@ucdavis.edu) or Dr. Nicholas Kenyon (njkenyon@ucdavis.edu). Course topics include:
Week 1: Managing meetings
Week 2: Managing communication, part 1
Week 3: Managing communication, part 2
Week 4: Managing conflict
Week 5: Budgeting
Week 6: Leadership styles
Week 7: Case presentations, part 1
Week 8: Regulatory compliance
Week 9: Case presentations, part 2
Events
EHSC Annual Retreat
For researchers, community partners, students, staff, general public
Annually
Our Annual Retreat happens in the Fall and is open to faculty, students, community members, advocacy organizations, government agencies and anyone else interested in environmental health research. You can participate in the retreat in person at UC Davis or online via Zoom, Twitter or Facebook.
2021 Annual Retreat
The 2021 Annual Retreat "Reimagining Health Equity in California" took place October 25 and 26. More than 100 people signed up to participate in the two day event at UC Davis and on Zoom. There were panel discussions, poster sessions, presentations on new research and a youth environmental justice panel.
Download the full agenda here. Read about featured panelists and presentations below.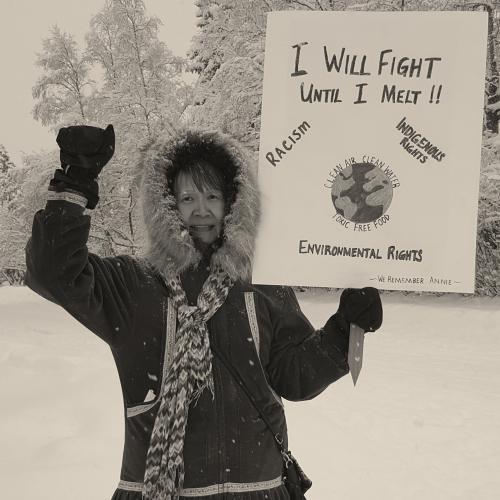 Viola Waghiyi (Keynote)
Protecting future generations: A Yupik grandmother's fight to end environmental violence for Indigenous peoples of the Arctic
Waghiyi is the Environmental Health and Justice Program Director for Alaska Community Action on Toxics and sits on President Biden's White House Environmental Justice Advisory Council. She is a Native Village of Savoonga tribal citizen and part of the Yupik indigenous community.
Dr. Don Hankins, CSU Chico
Indigenous fire: Burning for healthy people and landscapes
Hankins is a Professor of Geography and Planning at California State University, Chico. He has a BS in Wildlife, Fish and Conservation Biology and a PhD in Geography from UC Davis. His interests and expertise is in the following areas: pyrogeography, ecohydrology, landscape ecology, intervention ecology, conservation, environmental policy and Indigenous stewardship. He's featured in Academy Award-winning filmmaker Lucy Walker's new documentary about the Camp and Woolsey fires Bring Your Own Brigade.
Dr. Susan Handy
Transportation, land use, health and equity:  understanding the connections
Handy is Director at National Center for Sustainable Transportation and a Professor at UC Davis. Her research focuses on the relationships between transportation and land use and on strategies for reducing automobile dependence. 
Nayamin Martinez
The San Joaquin Valley: Environmental Justice or Injustice? A roadmap to the future
Martinez is the Director of the Central California Environmental Justice Network and Co-Director of EHSC's Community Stakeholder Advisory Committee. She has vast experience working with immigrants and residents of disadvantaged communities across the San Joaquin Valley managing public health programs, conducting participatory research and launching leadership and civic engagement programs.
Seigi Karasaki, PhD candidate, UC Berkeley
The Toxic Tides Project
Karasaki's research focus is on the intersection of drinking water access, social justice, institutional capacity, and individual agency. He is primarily interested in weaving together historical and current race- and class-driven disparities in water access, using a combination of community-based research methodologies and "big data" analyses. He holds a BA in East Asian Studies from UCLA (2011) and an MA in International Studies from the University of Tokyo (2014).
New research from EHS Scholars
Dr. Randy Carney: Surface enhanced Raman spectroscopy: a golden hammer for many environmental nails
Dr. Melanie Gareau: Developmental neurotoxicant exposure and host-microbe interactions in the gut
Youth climate activist panel
We rounded out the event with a look to the future from the POV of youth environmental justice climate activists from Northern California, including:
Marysol Madrigal 
Tonyndeye
Tonatiuh
Guadalupe Buenrostro Oseguera
Angel Vasquez
Tags