Bio-Specimen Assessment of Fire Effects (B-SAFE) Study aims to reveal how wildfires affect the health of pregnant women and their babies

Researchers from the UC Davis Environmental Health Sciences Center are conducting a study to learn how the 2018 Camp Fire and its smoke affected pregnant women and their babies. Researchers are currently enrolling women who were pregnant and living in Northern California when the Camp Fire struck on November 8, 2018 or shortly after.
Researchers are studying how wildfires affect women's health over time and across their pregnancy.  Schmidt says the study team has been enrolling women early in pregnancy so they can complete up to two visits before delivery. The research team is also enrolling postpartum women to see how their health changes after delivery. 
"Very little is known about the health impacts wildfires have during pregnancy," says Rebecca J. Schmidt, the lead scientist for the study and an assistant professor in Public Health Sciences at UC Davis. "Our goal is to collect information and biological samples that can help us understand what women were exposed to and how that exposure affected them and their babies." 
Participants fill out a survey providing information to help researchers better understand what pregnant women were exposed to and how they were affected, including whether they evacuated or wore a mask, and what symptoms they experienced before and after the fire. The survey takes about 40 to 60 minutes to complete.
Moms or moms-to-be living in Colusa, Butte, El Dorado, Glenn, Nevada, Sacramento, Sutter, Yolo, Yuba or Placer counties will get a home visit from the research team, who are also collecting samples (bio-specimens) of hair, blood, saliva, toenails, urine and breast milk from moms, and saliva, fingernails and toenails from babies, as well as placenta and umbilical cord blood at delivery, if possible. Women living in other Northern California counties will be asked to mail in samples of hair, toenails and saliva for themselves and their babies.
Women who agree to a home visit and provide bio-specimens for the study will be compensated.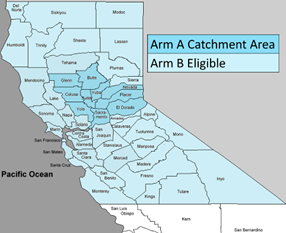 Urban wildfires
The Camp Fire was the deadliest and most destructive wildfire in California's history, killing 88 and burning almost 150,000 acres and 19,000 structures. It came fast on the heels of last year's devastating wildfires in Northern California, which also affected Butte County.
The Camp Fire spread rapidly and its smoke blanketed most of Northern California for weeks, creating air quality so hazardous people were told to stay indoors for days on end. With climate change, these types of wildfires are expected to grow, burning bigger and hotter each year.
Experts say recent wildfires in Northern California are particularly concerning because they took place in urban areas where thousands of structures made of synthetic materials burned. The chemical composition of the smoke and ash from these urban wildfires could be potentially more toxic than grassland or forest fires.
The B-SAFE study is part of a larger effort by the National Institute of Environmental Health Sciences (NIEHS) to better understand and respond to wildfires and other environmental disasters. The Environmental Health Sciences Center is currently conducting several research projects on wildfires funded by the NIEHS.
Tags