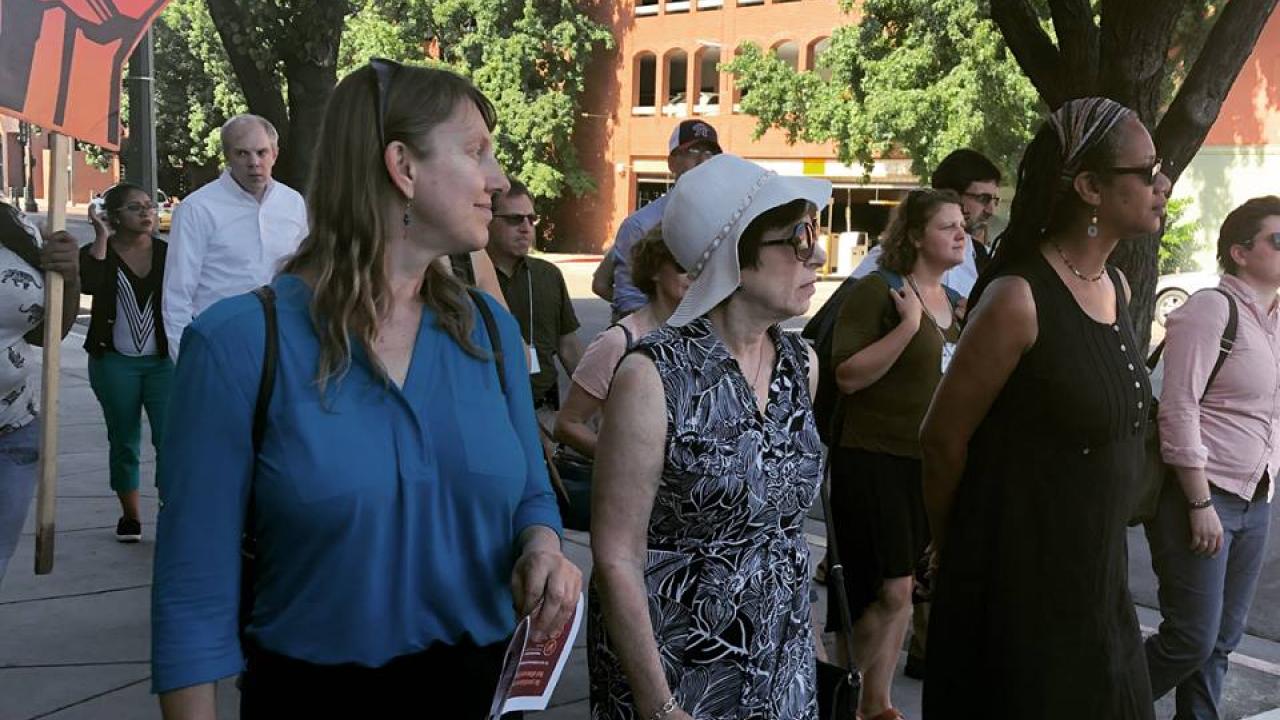 By Aubrey Thompson
One sweltering week last July, the UC Davis Environmental Health Sciences Center took researchers and officials from the National Institute of Environmental Health Sciences (NIEHS) on a reality tour of some of California's most polluted communities.  On the tour, scientists saw up close the environmental health issues residents faced — a glass factory next to an elementary school, an oil and gas facility in a residential neighborhood, a formerly agricultural community transformed into an industrial site through decades of development.
At each of these stops, residents told scientists their concerns about how the environment affected their health. Asthma rates were high, well water had dried up, and people feared cancer in their family was linked to poor air quality in the area. Scientists could hear about and see firsthand the environmental health problems they were researching.
The tour opened the door for scientists and communities to build new and mutually benefical relationships. Direct participation in research by community members can result in better science with increased rigor, relevance and reach. And local voices participating in the research process can help transform findings by scientists into effective strategies addressing community concerns.
This two-day introduction was a great start, but not enough to build lasting relationships. That's why the Community Engagement Cores of the NIEHS-funded UC Davis Environmental Health Sciences Center and University of Michigan Lifestage Environmental Exposures and Disease Center along with their community partners created a curriculum to help researchers and community organizations develop more effective partnerships.
The curriculum is called Building Equitable Partnerships for Environmental Justice. It's a two-day workshop that walks participants through the essential tenets of community participatory research, including how to:
Build equity.

Equitable relationships between university researchers and community organizations involves sharing control over decisions in research design, making agreements on how research results will be used and transparency about funding. Having discussions on these topics at the beginning of a project can build trust and make all parties feel like they have a valued role in the project.

Understand power dynamics.

Many environmental health issues are also political issues for community organizations. While it's important for scientists to remain independent from the politics of environmental regulation, it may help for them to understand the political landscape they're working in.

Leverage resources.

The university can be a difficult place to navigate as an outsider. Individual scientists can help community organizations access university resources that can improve their work. Community organizations benefit from knowing what research has already been done on a topic or ways researchers in different disciplines might be able to address their community's issues.
The power of the workshop curriculum is based on the impact of bringing community organizations and researchers to meet face-to-face to learn about each other's professional and personal cultures, build trust, identify common interests and envision opportunities for collaboration.
Organized as a self-guided experience or with a facilitator, exercises can be done activity by activity or all together. If you're interested in learning more, you can download handouts, supplementary materials and sample evaluation forms here:
You can also find the curriculum and other helpful information on our community resources page.
---
Aubrey Thompson is the program manager for the Environmental Health Sciences Center's Community Engagement Core.
Category
Tags